Start your training this week!
Closest studies
Why do I choose driving school "Einšteins"?
We provide the following:
training in weekday mornings, evenings or on weekends;
remote signing of the student's contract;
a state-of-the-art electronic platform where you can control your costs, apply for classes and track your results and progress;
a special training plan for faster obtaining of driver's licence;
a fair payment system and the possibility of non-cash payments;
availability of instructors and practical training throughout entire Latvia – start your practical training in Riga, but completes it in Liepaja or any other city of Latvia;
an electronic platform where you can apply for the TOP 100 best instructors in Latvia.
In addition to the above:
we are the most demanded driving school in Latvia for the third year in a row!
we have trained more than 20,000 students!
we have the highest statistics of theoretical and practical training in all of Latvia!
See for yourself on the website of CSDD!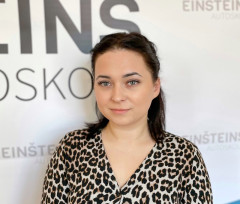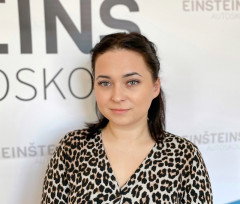 Marta Liepkalne
Contact our customer specialist in Riga
Questions about learning processes, registrations, cooperation possibilities and vacancies.
Address:
10 Kalpaka Boulevard, Riga
What our students say about us?
CSDD statistics that show our students passed the theoretical part
96.43%
Took exam: 1400 students, Passed exam: 1350 students
What our students say about us?
Un vispacietīgā cilvēka tituls nonāk praktisko apmācību Rīgas instruktora Gunāra Šteinberga rokās! Pēc vairākkārtējiem autoskolu un instruktoru mēģinājumiem padsmit gadu garumā pagājušā vasarā satiku savu īsto instruktoru, un tieši ar viņa palīdzību ieguvu autovadītāja apliecību. Gunārs ir prasīgs, bet ļoti sirsnīgs instruktors. Nekad (un šo varu apliecināt) nepacels balsi, neliks justies muļķīgai, bet profesionāli izskaidros, kā labāk darīt. Visi, kas pie viņa mācījušies, noteikti teiks to pašu – Gunārs...

Vēlos pateikties autoskolas Einšteins komandai (Rīgā)! Administrācijas precizitāte, laipnība, pretīmnākšana un uzmanība padarīja mācību procesu ļoti viegli īstenojamu. Teorijas pasniedzējas Marikas Bērziņas māksla paskaidrot īstiem un vinkārši saprotāmiem vārdiem sarēžģītas lietas, lieliskā humora izjūta un augsti professionālas zināšanas, palīdzēja izprast noteikumu būtību, nevis tikai iemācīties tos no galvas. Milzīgs paldies braukšanas instruktoram Ingaram Romanovičam par to, ka iemācīja braukt ar prie...

Paldies braukšanas instruktoram Jurijam Lasmanim, ieguvu tiesības ar pirmo reizi, un tas bija sniegainā februāra dienā! Vienmēr mierīgs, visu labi izstāsta, ar humoru, skatās, kas visvairāk pietrūkst un pats galvenais, cenšas palīdzēt kā var. Vienu reizi sanāca braukt pie Kristīnes, arī varu teikt tikai pašu labāko.

CE (95) kategorija ir nokārtota. Mācības notika Rīgā. Atsaucīgs personāls. Nebija nekādu aizķeršanos mācību procesā. Teorijas pasniedzēja Ilze Daniele lieliski visu izstāstīja un paskaidroja. Paldies Ilze! Vadīt smago kravas automašīnu bez stresa, iemācīja autoskola Einšteins braukšanas instruktors Agris Rubins-Kļavinskis. Liels paldies!

Vēlos pateikties autoskolai Einšteins (Rīga) un it īpaši braukšanas instruktoram Andrim Rudzītim! Apmācība noritēja ļoti patīkamā un pamācošā atmosfērā. B kategorijas tiesības noliku ar pirmo reizi, pat ņemot vērā sniegputeni un tumšo diennakts laiku, un tas noteiki ir, pateicoties braukšanas instruktora palīdzībai, jo pirms mācību uzsākšanas mana braukšanas pieredze bija 0.

Beidzot tiesības ir kabatā! B kategoriju liku Rīgā - teorija bija pie pasniedzējas Marikas Bērziņas, un mans braukšanas instruktors bija Andis Juškēvičs. Marika Bērziņa bija ļoti forša un zinoša pasniedzēja, visu vienmēr papildināja ar piemēriem no dzīves, lai materiālu padarītu atmiņā paliekošāku - ļoti patika mācīties pie viņas. Instruktors Andis Juškēvičs visās braukšanas nodarbībās bija mierīgs, uzklausīja mani, ja bija vajadzība - apstājāmies malā un viņš visu mierīgi izstāstīja. Paldies, ka ievies...

CE kategoriju kārtoju autoskolā Einšteins Valmierā. Viss bija saprotami. Braukšanas auto atšķirībā no vienas citas autoskolas, nebija katru otro braukšanas reizi jāremontē. Viss darbojās, liels pluss bija visu spoguļu esamība un to apsilde - attiecīgi nebija problēmu trenēties dabūt piekabi garāžā arī lietus/sniega laikā. Braukšanas instruktors Jānis Bāriņš visu spēja izskaidrot mierīgi un saprotami. Īsumā izdevās tikt pie CE kategorijas ar pirmo reizi, neskatoties uz nedraudzīgajiem laika apstākļiem eksā...

Esmu apmierināta ar autoskolu Einšteins! Nekādas lielas problēmas nav bijušas un viss tika atrisināts salīdzinoši laicīgi. Teoriju bija interesanti mācīties no Ģirta Limanska, pasniedza to ar azartu un interesantiem stāstiem no savas pieredzes. Ļoti iesaku savu braukšanas instruktoru ar dzelzs nerviem - Denisu Davidovu. Novērtēju lielo pacietību un paskaidrošanas mākslu. Iepriekš ar braukšanu man pieredzes nebija vispār un instruktors vienmēr uzklausīja un parādīja, ja kaut kas nebija saprotams. Izbraucā...

Iesaku autoskolu Einšteins! Visu kārtoju Rīgas filiālē. Visa procesa laikā noritēja ļoti veiksmīga komunikācija - uz e-pastiem nebija ilgi jāgaida atbilde, zvanot gaidīšanas laiks arī nebija ilgs un vienmēr ātri dabūju atbildes uz neskaidrajiem jautājumiem! Teorijas kursu gāju pie pasniedzējas Marikas Bērziņas - noteikti iesaku. Katru nodarbību klausījos ar interesi un nebūt nebija garlaicīgi, jo teorija tika paskaidrota vienkāršā valodā un dažreiz ar nelielu humoru. :) Braukšanas nodarbības apmeklēju pie...

Liels paldies autoskolai Einšteins par pozitīvu pieredzi! Teoriju apguvu pie pasniedzēja Ģirta Limanska - lielisks pasniedzējs. Atbildīgs, nopietni pieiet mācību procesam, taču arī humora netrūka un nodarbības bija ļoti interesantas. Īpaši lielu paldies jāsaka braukšanas instruktoram Gunāram Šteinbergam! Iepriekš ir bijusi slikta pieredze citā autoskolā un baidījos kā būs, taču velti - jau no pirmās nodarbības sapratu, ka esmu tikusi labās rokās. Ļoti zinošs, saprotošs un pozitīvs. Prasīgs mācību procesā,...
Driving school and driving courses in Riga
When choosing a driving school in Riga, prospective drivers have to choose from a relatively wide range of driving schools. How do I make the right choice so that the chosen driving courses provide what I expect and truly teach me to feel safe and confident on the road? First of all, get acquainted with the driving school training offer – whether the chosen driving school offers the courses of the category you need. In addition, careful attention must be paid to the format of the theoretical training and the driving school fleet. The same applies to the driving school vehicle fleet – every student prefers new cars that are identical to the cars used in CSDD exams. Second, pay attention to driving school CSDD exam statistics. Low CSDD statistics certainly would not indicate the high quality of training! Finally, nothing describes a driving school better than its students – check out the reviews on the driving school's website, social network profiles or survey friends and acquaintances to learn more about the driving school's services and instructors.
Driving school "Einšteins" in Riga
Driving school "Einšteins" is the most modern and fastest growing driving school not only in Riga, but also in the whole of Latvia. The driving school "Einšteins" in Riga provides driver's training in licence categories AM, A, A1, A2, B, BE, C, CE, D1 (D) – and train drivers for acquisition of the professional Code No. 95 licence. Since 2020, prospective drivers have been provided with the opportunity to take the theoretical course online. Now the training is back with in-class presence, but already in 2022 we will offer the opportunity to obtain a driver's licence on a modern e-learning platform, which will provide an opportunity to learn theoretical training at any time convenient for you and from anywhere in the world!
We, driving school "Einšteins", differ from other driving schools in Riga and Latvia by the desire to innovate and develop the training process of driving schools. We are currently working on a unique electronic platform where our students will be able meet with their instructors. Thus, we take care not only of convenient service and organization of the study process, but also of transparency and representation of students' interests. This platform – with the ability to follow the training process and individual progress online – motivates the student to obtain driver's licence faster, reducing the total costs.
The Riga branch of the driving school was opened in 2016, providing an opportunity for the future drivers of Riga and greater Riga region to learn driving skills in a truly modern driving school. Today, the services of the driving school "Einšteins" are available throughout entire Latvia, and the training process can be started and completed in different cities. Driving school "Einšteins" is not only the largest driving school in Latvia in terms of the number of students, but also the leading driving school in Latvia in terms of theoretical and practical training according to the CSDD statistics!
Frequently asked questions - driving school in Riga
The driving school "Einšteins" branch in Riga provides driver's training in licence categories AM, A, A1, A2, B, BE, C, CE, D1 (D) – and train drivers for acquisition of the professional Code No. 95 licence.
Students can apply for training at the Riga branch on our website by filling in the training application form.
Currently, driving school "Einšteins" offers all licence categories within a theoretical training process which takes place on site (at our premises). However, from 2022, we will offer future drivers a modern training – e-learning theoretical course at a time convenient for them from anywhere in the world!
If you want to know the costs of acquiring a specific category of driver's licence, you can easily and accurately calculate it using our training cost calculator!
Driving school "Einšteins" has renewed the full-time training of theoretical courses at our premises.