Start your training this week!
Closest studies
Why do I choose driving school "Einšteins"?
We provide the following:
training in weekday mornings, evenings or on weekends;
remote signing of the student's contract;
a state-of-the-art electronic platform where you can control your costs, apply for classes and track your results and progress;
a special training plan for faster obtaining of driver's licence;
a fair payment system and the possibility of non-cash payments;
availability of instructors and practical training throughout entire Latvia – start your practical training in Riga, but completes it in Liepaja or any other city of Latvia;
an electronic platform where you can apply for the TOP 100 best instructors in Latvia.
In addition to the above:
we are the most demanded driving school in Latvia for the third year in a row!
we have trained more than 20,000 students!
we have the highest statistics of theoretical and practical training in all of Latvia!
See for yourself on the website of CSDD!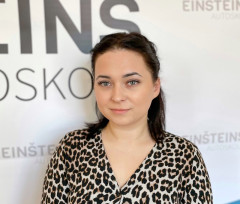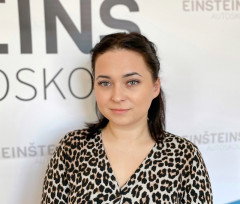 Marta Liepkalne
Contact our customer specialist in Riga
Questions about learning processes, registrations, cooperation possibilities and vacancies.
Address:
10 Kalpaka Boulevard, Riga
CSDD statistics that show our students passed the theoretical part
95.34%
Took exam: 2296 students, Passed exam: 2189 students
What our students say about us?
Inčīgs instruktors - Edgars Priekulis, mierīgā un draudzīgā atmosfērā, toties daudz ko var iemācīties. Paskaidro kļūdas pielietojot humoru. Kopumā ļoti foršas nodarbības!

Visslabakais Instruktors - Jurijs Lasmanis. Mācīja visas detaļas un nianses minimālā laikā. Ļoti saprotami izskaidro un izlabo kļūdas. Pateicoties viņam, es ļoti ātri ieguvu autovadītāja apliecību un uzlaboju savas braukšanas prasmes. Iesaku šo instruktoru visiem!

Sāku apmācības procesu ļoti bailīgi un nepārliecināti. Zināju, ka nepieciešams instruktors, kas būs nosvērts un atbalstošs. Tāds bija Ģirts Jakovickis. Labāku instruktoru nevar vēlēties. Vienmēr nosvērts un saprotošs. Visu izskaidro saprotami un katra braukšana ir neatsverama zināšanu deva. Instruktors ticēja maniem spēkiem pat tad, kad pati tiem neticēju un tas atmaksājās, jo CSDD braukšanu noliku ar pirmo. Liels paldies Einštena komandai par aktīvu iesaisti, atsaucību un sakārtotu "lietu kārtību". :) V...

Superīgs instruktors - Artūrs Dreimanis, C kategorija ar pirmo reizi.

Liels paldies, kopumā lieliska pieredze un veiksmīgs mācību process, īpaši vēlos pateikt paldies instruktoram - Raitis Beikmanis, kurš mani apmācija no pilnīgas "nulles", ļoti saprotošs un pacietīgs skolotājs. Paldies.

Viennozīmīgi labākā autoskola, viss viegli saprotams, instruktori visu ideāli un saprotami apskaidro, ja kas nesaprotams, tad pārliecinoties visu paskaidros un praktikā visu parādīs, personīgi mācījos pie Aivara Atkauķa, un instruktoram viennozīmīgi ir milzīga pieredze, kuru viņš nodot tālāk studentiem. Vienu vārdu sakot - paldies par apmācībām!

Ļoti labs un patīkams pasniedzējs, interesantas teorijas nodarbības.

Vispozitīvākā pieredze, mācoties ar autoskolas pasniedzēju un instruktoru Aleksandru Kolosovu. Ļoti profesionāls, pieredzējis un pacietīgs instruktors, kas ļāva man gūt pārliecību un zināšanas par drošu braukšanu. Sākot no pirmās braukšanas nodarbības, Aleksandrs Kolosovs radīja atsaucīgu un draudzīgu vidi, vienmēr atbildēja uz neskaidrajiem jautājumiem un skaidroja pat sarežģītākus satiksmes noteikumus ļoti saprotamā veidā. Vienmēr izskaidroja manas kļūdas un ieteica, kā tās turpmāk novērst. Ļoti patika,...

Vēlos pateikt Lielu Lielu paldies visai Einšteins komandai, kā arī savam Instruktoram Aldim Migliniekam, par ieguldīto laiku un nerviem šajā visā procesā. Viennozīmīgi iesaku arī citiem kursantiem šo Instruktoru, Iemacīs jūs Ļoti labi gan uzsākt braukšanu, gan parkošanos. Cilvēks zina, ko dara, ļoti pozitīvs. Paldies!!! Tiesības ir rokā!

Paldies autoskolai Einšteins un instruktoram Jurijam Lasmanim! Braukšanas ar Juriju tiešām bija ļoti interesantas, pamācošas un jautras! Autoskolai Einšteins paldies par pretimnākšanu dažādos jautājumos un izcilu klientu servisu! :)
Driving school and driving courses in Riga
When choosing a driving school in Riga, prospective drivers have to choose from a relatively wide range of driving schools. How do I make the right choice so that the chosen driving courses provide what I expect and truly teach me to feel safe and confident on the road? First of all, get acquainted with the driving school training offer – whether the chosen driving school offers the courses of the category you need. In addition, careful attention must be paid to the format of the theoretical training and the driving school fleet. The same applies to the driving school vehicle fleet – every student prefers new cars that are identical to the cars used in CSDD exams. Second, pay attention to driving school CSDD exam statistics. Low CSDD statistics certainly would not indicate the high quality of training! Finally, nothing describes a driving school better than its students – check out the reviews on the driving school's website, social network profiles or survey friends and acquaintances to learn more about the driving school's services and instructors.
Driving school "Einšteins" in Riga
Driving school "Einšteins" is the most modern and fastest growing driving school not only in Riga, but also in the whole of Latvia. The driving school "Einšteins" in Riga provides driver's training in licence categories AM, A, A1, A2, B, BE, C, CE, D1 (D) – and train drivers for acquisition of the professional Code No. 95 licence. Since 2020, prospective drivers have been provided with the opportunity to take the theoretical course online. Now the training is back with in-class presence, but already in 2022 we will offer the opportunity to obtain a driver's licence on a modern e-learning platform, which will provide an opportunity to learn theoretical training at any time convenient for you and from anywhere in the world!
We, driving school "Einšteins", differ from other driving schools in Riga and Latvia by the desire to innovate and develop the training process of driving schools. We are currently working on a unique electronic platform where our students will be able meet with their instructors. Thus, we take care not only of convenient service and organization of the study process, but also of transparency and representation of students' interests. This platform – with the ability to follow the training process and individual progress online – motivates the student to obtain driver's licence faster, reducing the total costs.
The Riga branch of the driving school was opened in 2016, providing an opportunity for the future drivers of Riga and greater Riga region to learn driving skills in a truly modern driving school. Today, the services of the driving school "Einšteins" are available throughout entire Latvia, and the training process can be started and completed in different cities. Driving school "Einšteins" is not only the largest driving school in Latvia in terms of the number of students, but also the leading driving school in Latvia in terms of theoretical and practical training according to the CSDD statistics!
Frequently asked questions - driving school in Riga
The driving school "Einšteins" branch in Riga provides driver's training in licence categories AM, A, A1, A2, B, BE, C, CE, D1 (D) – and train drivers for acquisition of the professional Code No. 95 licence.
Students can apply for training at the Riga branch on our website by filling in the training application form.
Currently, driving school "Einšteins" offers all licence categories within a theoretical training process which takes place on site (at our premises). However, from 2022, we will offer future drivers a modern training – e-learning theoretical course at a time convenient for them from anywhere in the world!
If you want to know the costs of acquiring a specific category of driver's licence, you can easily and accurately calculate it using our training cost calculator!
Driving school "Einšteins" has renewed the full-time training of theoretical courses at our premises.
Apmācībām Rīgas filiālē var pieteikties mūsu mājaslapā, aizpildot apmācību pieteikuma anketu.