Start your training this week!
Closest studies
Why do I choose driving school "Einšteins"?
We provide the following:
training in weekday mornings, evenings or on weekends;
remote signing of the student's contract;
a state-of-the-art electronic platform where you can control your costs, apply for classes and track your results and progress;
a special training plan for faster obtaining of driver's licence;
a fair payment system and the possibility of non-cash payments;
availability of instructors and practical training throughout entire Latvia – start your practical training in Riga, but completes it in Liepaja or any other city of Latvia;
an electronic platform where you can apply for the TOP 100 best instructors in Latvia.
In addition to the above:
we are the most demanded driving school in Latvia for the third year in a row!
we have trained more than 20,000 students!
we have the highest statistics of theoretical and practical training in all of Latvia!
See for yourself on the website of CSDD!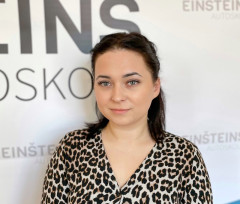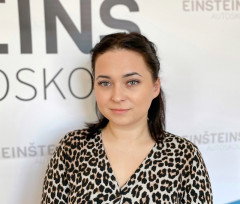 Marta Liepkalne
Contact our customer specialist in Riga
Questions about learning processes, registrations, cooperation possibilities and vacancies.
Address:
10 Kalpaka Boulevard, Riga
CSDD statistics that show our students passed the theoretical part
95.16%
Took exam: 1592 students, Passed exam: 1515 students
What our students say about us?
Lielu paldies gribu teikt instruktorei Kristīnei Jakimenko. Kvalitatīvi novada stundas, nekad neliek sajusties slikti par pieļautajām kļūdām, bet izies cauri maršrutam ar paskaidrojumiem :) Superīga instruktore- stundas paiet ātri un uzziņām pilni.

Работники и качество обслуживание на отлично. 4 звёзды из за комиссии. Если ты зарезервировал себе все обязательные вождения и вдруг у твоего инструктора появилось место пораньше(хочется же быстрей сдать на права), то будь добр, заплати комиссию. Ещё и 5 процентов на сколько я помню. Ну такое себе.

Ļoti ērti pieteikties uz braukšanas nodarbībām vai pieteikt teorijas, braukšanas eksāmenu. Burvīgs, mierīgs un saprotošs instruktors Aleksandrs Kolosovs!!

Teorētiskās apmācības apguvu klātienē pie instruktora Aleksanda Kolosova. Katra nodarbība bija interesanta un noderīga, jo instruktors stāstīja informāciju arī no savas pieredzes. Braukšanas nodarbības apguvu pie instruktora Juri Auzāna, vienozīmīgi iesaku, jo nodarbības bija mierīgas bez stresa, instruktors arī ļoti mierīgs, vienmēr palīdzēja sarežģītākās situācijās. Pretimnākošs un saprotošs. Esmu ļoti pateicīga par šādu instruktoru kā Juris Auzāns!

Man bija paši labākie instruktori! Uzsāku bez jebkādas pieredzes un ar lielu stresu, bet abi pilnā mierā spēja ielikt pamatus un iedrošināja nepadoties, ja kaut kas nesanāca. Ļoti novērtēju atgriezenisko saiti pēc katras nodarbības. Tāpat patīkami, ka visā apmācības laikā bija nepārtraukta komunikācija un norādes no autoskolas par katru nākamo soli, kā arī mudinājumu nepamest mācības, kas tomēr rezultējās ar tiesību iegūšanu. :)

Autoskola - ļoti ērti. Biju labi informēts par visām nepieciešamajām darbībām, ļoti ērts un saprotams klienta profils. Pats labums visā šajā tiesību piedzīvojumā - instruktors Ivo Jaunzems. Ātri nolasa studenta spējas - stiprās un vājās vietas, attiecīgi, dod padomu tieši pa tēmu, nevis "visiem viena lekcija". Kļūdas redz pa kilometru. Iesaku 10/10!

Sāku savu braukšanas apmācību bez jebkādām priekšzināšanām, esmu ļoti pateicīgs Vjačeslavam Krugļickim par empātisko, mierīgo un metodisko attieksmi, tas padarīja šo apmācības procesu patīkamu un baudāmu. Vjačeslavam ir pedagoģiskais talants - pacietība, mierīga un individuāla pieeja, kā arī spēja veltīt savu uzmanību katrai niansei visas braukšanas nodarbības laikā. Pats galvenais ir tas, ka Vjačeslavs būs saprotošs un neliks justies slikti, ja kaut ko nesaproti vai kļūdies, gluži otrādi - šādas situācij...

Pati foršākā instruktore Katrīna Bāne. Ja kaut kas nepadodas baigi nemoka un nedod atslābt. Vajadzīgo iemācīs jebkurā gadījumā.

Esmu ieteikusi Gunāru kā instruktoru vairākas reizes paziņām, bet noteikti iesaku mācīties braukšanu tieši ar šo instruktoru visiem, kas lasa šo atsauksmi. Gunārs ir stingrs, bet viņš māk būt stingrs tādā veidā, kas neliek uz viņu dusmoties vai būt aizvainotam (bieži vien humors palīdz paskatīties uz savām kļūdām vieglāk). Ir skaidrs, ka viņu motivē tīri nodomi - vēlme labāk iemācīt un kursanta prasmju attīstīšana. Tāpēc prieks, ka ir augstas prasības - tas sagatavo būšanai satiksmē, veicina ticību sev. N...

Pavisam nesen ieguvu autovadītāja apliecību un par to saku milzīgu paldies autoskolai "Einšteins"! Par visaptverošu teorijas kursu un, jo īpaši, instruktoram Jurim Auzānam - par fantastiskajām praktiskajām nodarbībām! Iemācīja justies droši satiksmē mierīgā gaisotnē, vienmēr izskaidroja visas kļūdas un viltīgākos, sarežģītākos krustojumus palīdzēja apgūt līdz pašam sīkumam! Milzīgs paldies!
Driving school and driving courses in Riga
When choosing a driving school in Riga, prospective drivers have to choose from a relatively wide range of driving schools. How do I make the right choice so that the chosen driving courses provide what I expect and truly teach me to feel safe and confident on the road? First of all, get acquainted with the driving school training offer – whether the chosen driving school offers the courses of the category you need. In addition, careful attention must be paid to the format of the theoretical training and the driving school fleet. The same applies to the driving school vehicle fleet – every student prefers new cars that are identical to the cars used in CSDD exams. Second, pay attention to driving school CSDD exam statistics. Low CSDD statistics certainly would not indicate the high quality of training! Finally, nothing describes a driving school better than its students – check out the reviews on the driving school's website, social network profiles or survey friends and acquaintances to learn more about the driving school's services and instructors.
Driving school "Einšteins" in Riga
Driving school "Einšteins" is the most modern and fastest growing driving school not only in Riga, but also in the whole of Latvia. The driving school "Einšteins" in Riga provides driver's training in licence categories AM, A, A1, A2, B, BE, C, CE, D1 (D) – and train drivers for acquisition of the professional Code No. 95 licence. Since 2020, prospective drivers have been provided with the opportunity to take the theoretical course online. Now the training is back with in-class presence, but already in 2022 we will offer the opportunity to obtain a driver's licence on a modern e-learning platform, which will provide an opportunity to learn theoretical training at any time convenient for you and from anywhere in the world!
We, driving school "Einšteins", differ from other driving schools in Riga and Latvia by the desire to innovate and develop the training process of driving schools. We are currently working on a unique electronic platform where our students will be able meet with their instructors. Thus, we take care not only of convenient service and organization of the study process, but also of transparency and representation of students' interests. This platform – with the ability to follow the training process and individual progress online – motivates the student to obtain driver's licence faster, reducing the total costs.
The Riga branch of the driving school was opened in 2016, providing an opportunity for the future drivers of Riga and greater Riga region to learn driving skills in a truly modern driving school. Today, the services of the driving school "Einšteins" are available throughout entire Latvia, and the training process can be started and completed in different cities. Driving school "Einšteins" is not only the largest driving school in Latvia in terms of the number of students, but also the leading driving school in Latvia in terms of theoretical and practical training according to the CSDD statistics!
Frequently asked questions - driving school in Riga
The driving school "Einšteins" branch in Riga provides driver's training in licence categories AM, A, A1, A2, B, BE, C, CE, D1 (D) – and train drivers for acquisition of the professional Code No. 95 licence.
Students can apply for training at the Riga branch on our website by filling in the training application form.
Currently, driving school "Einšteins" offers all licence categories within a theoretical training process which takes place on site (at our premises). However, from 2022, we will offer future drivers a modern training – e-learning theoretical course at a time convenient for them from anywhere in the world!
If you want to know the costs of acquiring a specific category of driver's licence, you can easily and accurately calculate it using our training cost calculator!
Driving school "Einšteins" has renewed the full-time training of theoretical courses at our premises.
Apmācībām Rīgas filiālē var pieteikties mūsu mājaslapā, aizpildot apmācību pieteikuma anketu.